Volunteer Interpreter Division
通訳ガイドボランティア部会(つうやくがいどぼらんてぃあぶかい)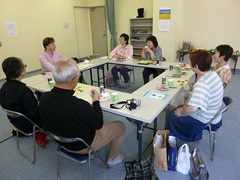 We guide tourists from foreign countries around historic spots of Sawara (free of charge). We share the joy of discovering the nostalgic atmosphere about Sawara with foreigners by walking, boat-riding, visiting cafes & restaurants and shopping.
We hold the English conversation classes as we call "Living English in Katori" for the citizens of Katori City. There are 4 or 5 lessons in a year, and each lesson is given by a native speaker of English. We are very much delighted to see more and more people come to learn English conversation year by year.
Sawara Grand Festivals are held, twice a year, Friday, Saturday and Sunday on the weekend of July when Friday first fall on two digit day and Friday, Saturday and Sunday on the second weekend of October. During these festival days, we volunteer to help the foreigners enjoy the Sawara Grand Festival, doing research for tourism by means of questionnaires.
In addition, we will do all possible assistance to the requests from local activity groups: watching work to traffic-free zone during iris-flower festivals in June and sales assistance to Bon Festival promoted by Okamisan-kai (shopkeeper's wives association) and others.
We translate shop brochures and restaurant menus into English. We also publish tourist leaflets in English version, which can be renewed every year, and distribute them to the reception desks at Narita Airport and some hotels in Narita City.


 当部会は佐原を訪れた外国人を歴史的な町並みを中心に無料で案内しています。舟巡りや食事・買い物などのガイドもして、訪れたお客様に喜んでいただいています。その他に香取市在住の市民対象にリビングイングリッシュという英会話教室を開催しています。外国人の先生を講師に招き年4~5回行っています。年々参加者が増え、毎回大盛況の教室となっています。佐原には年2回の大祭がありますがその6日間(各3日)来て下さった外国人の方々を案内したり、アンケートを取ったりしています。
 一方、外国人と直接関係のない活動も依頼があれば全て受けています。例えばあやめ祭り期間中の小野川両岸通行止めに係る手伝い、佐原おかみさん会の盆ふぇすたの手伝い等々。頼まれた件についてはできる限りお手伝いをしています。また佐原地区の商店や飲食店で必要な英文への翻訳や英文パンフレットを作り毎年更新して、成田空港やホテルなどにそのパンフレットを置いてもらっています。  
  この研修会では、市民の皆様(市内在勤OK)を対象に、外国人の方との様々な場面におけるやさしい英会話の実践を行います。ご都合の良い回にご参加ください。
また、飲食店などお店の方はメニュー表や紹介パンフレット等をお持ちください。無料で英訳します。
 来年度のレッスンスケジュールは、決定次第、「広報かとり」、またホームページでもお知らせいたします。