General Affairs & Study Division
総務・研修部会(そうむけんしゅうぶかい)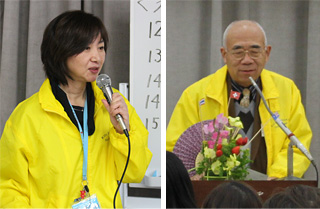 The main clerical part of work leans to City's Branch of the Civic Activities Facilitation: the acceptance of foreign tourists with assistance of interpretation service, the acceptance and registering of volunteers, the summons of the regular general meeting and other junior meetings.
The activities by the volunteering members include the exchanging of the other organizations of neighboring cities, the issuing of the newsletters and sightseeing brochures in English version and the practice of the training activities.
The Tokyo Olympics and Paralympics will be held in Tokyo in 5 years. We will be asked to take part in the varying training activities. Being ready for the call from authorities of Chiba Prefecture, we should train new members.

 主な事務的な仕事は、市役所市民協働課にお願いしています。それらのいくつかを紹介しますと、まず、外国人の通訳・観光案内の受付、ボランティア活動の希望者の受付及び登録、そして会員証やボランティア登録発行業務や理事会、正副部会長会議や定期総会などの会議の招集などです。
 部員が分担する仕事としては、他地区の国際交流協会との交流、「協会通信」の発行、英文の観光パンフレットの作成、研修会の開催です。
 オリンピック・パラリンピックの開催をひかえて、千葉県からの各種イベントへの参加要請が増えてくると思いますが、それらにスムーズに応じられる体制をつくる目的で、ボランティア会員のための有効な研修会の開催を企画する予定です。